Don't predict future performance based on past performance
A lot of investors and experts use past performance to predict the future, inventing rules like a perfectly cyclical property clock.
These can give us a false indication that the market (read: 15,000 suburbs, 180 cities/ towns) always follows a predictable pattern – that when prices go down, they will soon rise, and vice versa.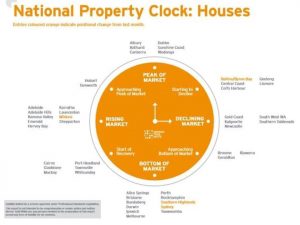 Have you heard an expert talking up a property market based on how it has recently performed?
Check yourself, and others, when we jump too much onto this bandwagon.
There are other, more sophisticated ways to estimate the future growth of a suburb/ property.
Some markets' property clock is round, some rectangular, some square, some semi circle, some heptangular etc.
Picking a growth market is a science, not just a case of looking at the last 5 years growth…!
p.s. please IGNORE property clocks like the below ? If you track them over 10 years like I have, you will find the publisher often moves locations COUNTER CLOCKWISE! ?