Did you think house prices were going to crash? be honest!
I posted this 4 months ago – and a LOT OF PEOPLE DISAGREED.
I had dozens of people DM'ing after posting this.
…on how house prices won't be affected too much by CV-19.
So if you are STILL on the side-lines, read this again.
We all remember the impacts of the Global Financial Crisis, right? It was a scary time for investors in almost every asset class, as the share market posted heavy losses and spilled red all over the top end of town.
But do we really remember what happened to property?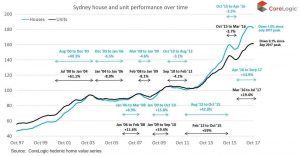 Ask most people and they might recall it being a pretty dire time for those who put their cash in bricks and mortar.
But it wasn't.
Buying during the GFC proved to be one of the best times to get onto the property adder.
There were dips, for sure. The national median house price fell by 3.5 per cent over two consecutive quarters at the height of the panic in late 2008. But then… they rose from early 2009 on the back of government stimulus.
And the turnaround was sharp.
Within a quarter, the market had made up all of that lost ground and in the two quarters after that, had increased by about seven per cent.
And the upward trajectory continued.
As Domain summarised in a recent article: "It was home owners bold enough to strike during the global financial crisis who made the biggest windfall."
Those investors saw the opportunity to act in a market with exceptional long-term growth prospects, underpinned by a long-term supply and demand imbalance, and to do so with a bit less competition while buyers were running scared.
A contributor to an increase in activity was falling interest rates. The cheap cost of credit encouraged people to act while the buying was good.
We're in a similar scenario already, with record-low rates significantly boosting borrowing power and lowering costs.
Another major contributor was that the government sought to head off an economic mess by pouring billions and billions of dollars into a number of key battlegrounds.
A bit of perspective goes a long way.
With property, take advice from people who know the data, and have large healthy portfolios.
Not those who are running scared and haven't ever invested.