Level:
Beginner + Advanced
The Goal:
Passive Income + Wealth
Course Length:
Self-Paced (Lifetime Access)
Course Format:
Online & Zoom
What is it?
The Property Investment Accelerator is a self-paced online course with tools and templates, live Q&A calls and a community of property investors. It helps you build a sizeable passive income from scratch
Who is it for?
The Property Investment Accelerator Course is for anybody who wants to start or fast-track their property portfolio to a high 5 to 6 – figure passive income. It works for anybody, regardless of your previous knowledge or experience
Where does it happen?
The Property Investment Accelerator Course is online and consists of training videos, tools, templates, live Q&A calls and a private community forum. You can complete it online, at your own time, with no deadline
How does it work?
You watch the videos, complete the action items, use the provided tools and templates and engage the team provided to work for you. Ask questions in the private forum or on the live Q&A calls, follow the process, get results
When does it start?
The Property Investment Accelerator is an online course, it starts the moment you enrol. You can complete it in your own time and work through it as fast or slow as you wish. You get lifetime access
Why does it exist?
We created the Property Investment Accelerator because there is nothing that shows you how to start or fast-track your property portfolio using data, not opinion. This fills that void, and in extreme detail
Property Investment Accelerator Course Content
It's a self-paced course, with lifetime support, where you find your exact best growth suburb and high cashflow property, with our support & guidance
Expand All
Module 1
A helicopter view of the investment process, fast-tracking your deposit & developing your quantum wealth creation strategy
The most successful property investors are those who are skilled in strategy, because without a short term and long term strategy, it's much harder to consider the bigger picture.
You can't "see the forest from the trees". If you don't know where you are going, it's hard to figure out how to get there, and even harder to take the very next steps.
A highly strategic property portfolio is one that:
1) Offers strong long-term capital growth potential
2) Delivers a balanced cash flow that allows you to live comfortably and save for future property purchases
3) Fits in with your personal and professional goals
The size and makeup of a scalable portfolio differ from investor to investor.
There's no one-size-fits-all. And that's where a STRATEGY comes into play.
In this module, we teach you exactly how to develop a short term and long term property investment strategy and the arithmetic behind it. The numbers don't lie!.
Develop a clear understanding of how to calculate your starting & useable equity, your borrowing capacity, passive income & how many properties you'll need to acquire & have paid off before you retire.
This module is all about the mechanics of buying an investment property and then how to use the equity in one property to buy the next investment property and the one after that.
Master how to set your property strategy so you reach your financial goals with strategic & calculated thought behind your actions.
Module 2
How to select your best growth suburb
Supply and demand are the backbones of economics. Together, they create a simple but crucial concept that influences how the price of all goods and services are determined. Coffee, petrol, flights and even property!
Put simply: supply is the quantity of a good the market has to sell, and demand is the quantity of that same good the consumer wishes to buy.
There is a mathematical science behind knowing which markets are out of balance and which are balanced.
In this module, we teach you how to find periods of imbalance between supply and demand in property markets and how to use this to your advantage to predict price growth.
You will be able to examine all the property markets throughout Australia, analyse them in terms of the most important factors and criteria.
Most importantly, you will be able to do this in less than 5 hours at home.
Get a solid understanding of capital growth triggers so you can identify suburbs that haven't yet boomed in value.
We are going to show you the most powerful tools in our toolkit and we are going to "zero in" on the most important things that you need to consider as an advanced property investor and combine them with the power of computer software to make the process faster and easier.
Understand the ways to strategically select growth suburbs & how to do thorough suburb due diligence before you buy.
You'll master how to analyse suburbs in microscopic detail to mitigate risk, leaving no stone unturned for all future property purchases.
Module 3
How to select your best growth & high cashflow property
Finding a few suburbs with great growth potential is not the end of our research process.
Even if a suburb is a good place to invest, that doesn't mean every property in that location is an ideal investment as there will be inferior vs superior neighbourhoods.
For example, some homes might be overpriced or structurally flawed or designed in a way that doesn't suit local tastes. Other homes may be in pockets where there are large patches of public housing.
That's why you really need to drill down on both the specific attractive pockets within the suburbs and the specific property before committing to a purchase.
Now you are really fine-tuning your asset selection. This is where you'll need to consider things such as street appeal, liveability of the area, local amenities, consistency of housing stock, general overcrowding of too many dwellings, elevation, etc.
In every suburb, there are the A-grade, B-grade as well as C-grade streets. You want to focus on the A and B grades as the C-grade streets will often have flaws that ultimately affect the performance of our investment.
Learn how to thoroughly & methodically research where to buy within a particular suburb and research a specific property in absolute detail.
Module 4
Conquering property valuation, finding off-market deals, due diligence, and remote property inspections to save time and cost
Finding both "on" and "off" market deals sets you apart from the rest of the herd, including most professional Buyers Agents. You'll learn the tactics to gain access to quality property that we've learned through years of experience.
You will also learn how to determine the true value of a property before you buy without relying on sales agent opinions of online estimations that have low accuracy.
We teach a valuation method that enables you to gain microscopic knowledge of property values and pricing disparity levels within a suburb. You will learn to implement a more precise methodology than what bank valuers use to determine what a property is truly worth.
We also teach you how to appoint the very best property management agent, have them inspect properties on your behalf to save you time and enable you to be a borderless investor. This is crucial in order to maximise your chances of selecting the best suburb that will give income and growth.
It's very important that your investment property is managed effectively, otherwise you could run the risk of months of vacancies, property damage and even worse squatters!
In this module you'll also discover how to manage an investment for the highest return and avoid attracting problem tenants – how to vet & select quality rental tenants to keep your property performing well for years to come.
Module 5
Advanced legal training and behavioural economics to negotiate the price
Discover the most powerful and effective ways to negotiate your way to profits and avoid paying too much for a property. Ideally, use these advanced tactics to buy under market value.
Many successful investors are good negotiators because it's very important that you avoid paying too much for a property. Instead of thinking of negotiation as been argumentative, think about it as the necessary process for both parties to walk away feeling like they have arrived at a good deal!
The real skill in negotiation is finding out what the buyer really wants or needs (as it may not be only price) … this then leads to a win-win outcome, one where you get the property you want, for the price you want to pay and also ensure the clauses in your offer give you a distinct advantage over other buyers.
Understand the key conditions advanced investors can negotiate when buying a property to sweeten the deal & increase equity. Learn how to tactfully deal with real estate sales agents and how to submit offers in different ways to achieve your intended result.
Module 6
Manufacturing equity through cosmetic renovation, protecting your asset and maximising your tax deductions
Why exclusively rely on the market to improve your equity in your property when you can create your own gains too?
In this module, we will give you the exact strategy to execute a strategic renovation. This is one of the single most effective ways to build a property portfolio quickly and if done correctly.
Instead of only waiting for the market to improve the equity of your property, you can be actively increasing the value of the property from the very start by renovating strategically. Plus it is a lot of fun too!
I will also teach you how to optimise your tax deductions to maximise your passive income, buy in the right tax structure to protect your assets and maximise cashflow, treat your property portfolio as a business so you know your numbers like the "back of your hand", and minimise accountant and quantity surveyor costs.
Battle tested and proven results
Does the Property Investment Accelerator work? There's only one way to find – by seeing whether our clients actually succeeded in the real world
Learn the way that best suits you
The Property Investment Accelerator Course comes with online, social, live and simulated material
Online e-learning platform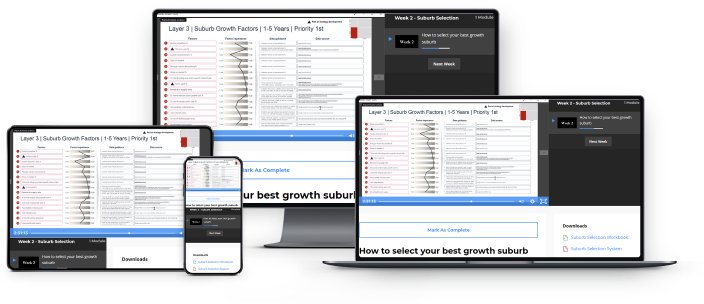 Online e-learning platform
Watch training videos and use our detailed tools and templates. Access the training online from any desktop, mobile or tablet device, anywhere in the world, anytime you like.
Interactive investor community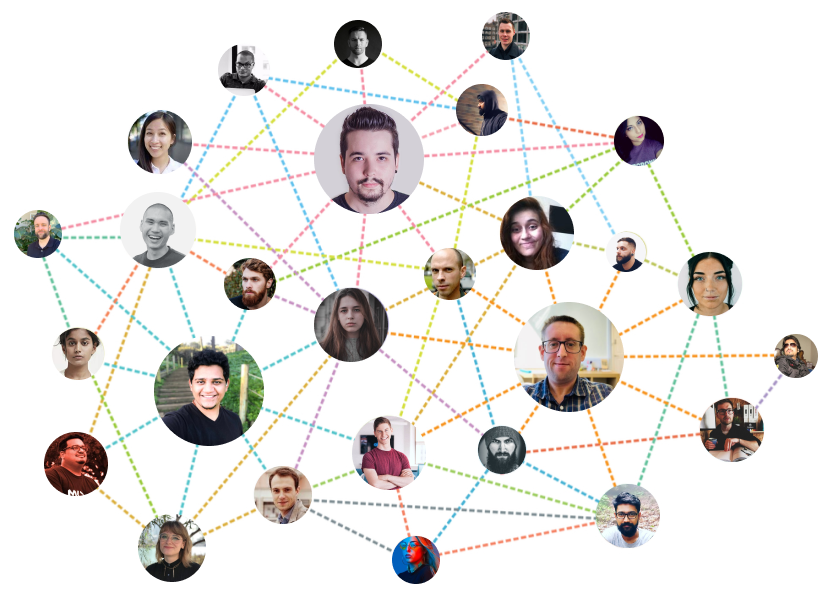 Interactive investor community
Join an energetic community on the same wavelength as you. Property investing is lonely when you're surrounded by people who just don't get it. Get inspired, ask questions, generate ideas, make friends and have fun!
Expert mentorship on demand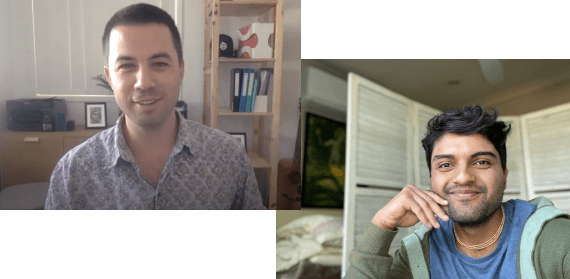 Expert mentorship on demand
Get personalised mentorship from PK, who can troubleshoot your problems and provide guidance and direction. Weekly Zoom Q&A calls, live mentorship recordings, emails etc.
Here's what our clients are saying
Our clients aren't just satisfied, they have successful property portfolio's and they're making money
Please Stop Making This Costly Mistake! 😢 Adarsh's REGRET Before Buying 3 Investment Properties DIY

SCAMMED! BANKRUPT! SEPARATED! How Paul RESTARTED Property Investing to Build a Retirement Income

Andrew's Beginners Guide to Australian Property Investing - How he Built a Passive Income BEFORE 30!

How SYDNEY Investors are MAKING MONEY in a Rocketing PERTH Property Market! Passive Income 2022

How First Time Investor BEAT Buyers Agents to Secure QLD OFF MARKET Huge Growth Property from Sydney

How Jono Bought Investment Property in Perth from QLD WITHOUT Needing a SALES or BUYERS Agent!

How Alfred DOUBLED his Money by Data Driven Property Investing in Albury & Wodonga from Melbourne!

The Banks REJECTED Her! How Tatiana Bought Two Cash Cow Properties Anyway! Real Estate Investing

How Kelly is Building Wealth on an AVERAGE INCOME using Property Investing in Australia with a Twist

How Mike Built a 3 MILLION DOLLAR Australian Property Portfolio (inc suburbs) & Rate Rise PROOF

How Adel is Turning $25k into 1 Million Dollars through Australian Property Investing - His Suburbs!

Buying His FIRST Property at 22 in Australia - How Troy did Property Investing on a Limited Income!

Top LOCATIONS Australian Property Investors are Buying Using Data | 8 Deals Building Passive Income!

How to Invest in Australian Property & Create A Passive Income for Life! REAL STORY and Tips/Tricks

How To Start Property Investing in Australia in 2022 | Jess & Eddy's BORDERLESS Investing Journey!

[ SHOW & TELL ] Top Property Investment Deals Across Australia & Tips / Tricks! | Monthly Case Study

How Bhanu Started Investing In Real Estate REMOTELY Through The Property Investment Accelerator

HOW to Build a BIG Property Portfolio FAST in 2022 | Australian Real Estate Investing WITHOUT Agents

Steven's First BOOMING Investment Property | How He Did It Inter-State WITHOUT Leaving His House!

[ REAL DEALS ] Growth + Positive Cashflow Investment Properties In 2022 | Australian Real Estate
We Get It. You Need To See Long Term Results To Build Trust. Spend Dozens Of Hours Watching, Hearing & Reading From Our Clients
600+ Client Results